In Bed With ... Influencer, Arjan Voermans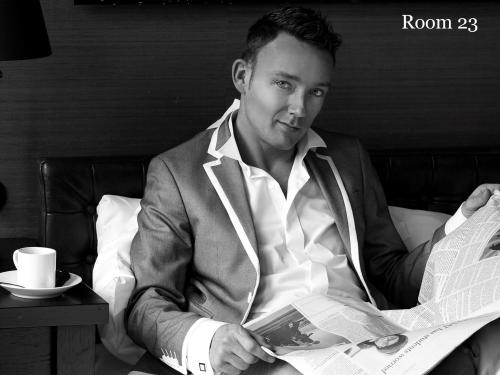 Where do you live / describe your neighbourhood?
I live in 'Oud-West' and I wouldn't want to live anywhere else in Amsterdam. The area is full of shops, restaurants and many different kinds of people. My street is peaceful and quiet, with all the bustle just around the corner.
What do you do on a Sunday afternoon in Amsterdam?
I like to hang out with friends - I'm the kind that loves being around people. In the summer time, when I want to be really chilled out, I grab some drinks and meet with friends in the Vondelpark. In winter, I like to visit 'Mossel & Gin', mussels and gin (in many great flavours). A nice pub is always a good idea on a Sunday afternoon in Amsterdam too.
What do you love most about the city and people?
Nothing is weird and everyone is accepted. That's typical of Amsterdam. Also, the city offers everything you need.
Best way to relax?
It is the only time I leave the city because I love the sun and the beach… Although Amsterdam does have a beach and, of course, the IJ. When you visit Plekk on the other side of the river, you can jump into the IJ, but that's something I only do on really hot days in the summer.
Favourite cocktail bar?
The Sky Lounge bar near Central Station serves nice cocktails with a view. My two favorite cocktails are the Amaretto Sour and the Bramble served in Canal House.
Favourite restaurant, café?
I like Asian food. For a quick, small bite I visit Happy Happy Joy Joy. They serve food from almost every country in Asia. Cinema Paradiso has the best Italian dishes in the city, you really have to try the sgroppino – it's delicious! And Madrid (the restaurant!) is brilliant. It's just like being in Spain – I'm getting hungry just thinking about it!
Best places to shop?
It depends on my budget! I love shopping in the PC Hooftstraat. No Louis Vutton or Prada for me sadly but there are a lot of other shops with gorgeous clothes. I also like to go to Fittz. They sell some unknown brands which I love, so I'm not wearing what everyone else is wearing.
Describe your own personal style?
Casual-chic I guess. It depends on my mood. Sometimes I want to look perfect from top to toe, sometimes I'm loving life wearing old jeans and a hoodie.
Top 5 things you recommend to do in Amsterdam?
1. Enjoy a canal tour and discover Amsterdam by night.
2. Go to The Hallen (Hannie Dankbaarpassage 33) and enjoy a variety of food and entertainment.
3. You can't leave without visiting the Anne Frank House.
4. Eat tapas at Madrid (Bellamystraat 11-H) and say hi to the fantastic owner Jorge from me.
5. Visit the '9 straatjes' and take a look in all the nice little shops, be inspired, buy something and take a break in one of the lovely restaurants or bars on the canals.
Recommend something off the beaten track / lesser known that tourists don't know …
Visit Gezondigd at Haarlemmerplein 36. The owner has combined healthy food and 'sins' on the menu (I confess I'm more of a sinner-type!). The restaurant feels a little like being in Central Perk from Friends. Sometimes on Sundays they have live acoustic music, not too loud, just perfect.
Photography: Amanda Griffioen