In Bed With ... Jan Willem Loor (in loving memory) & Tertius van Oosthuyzen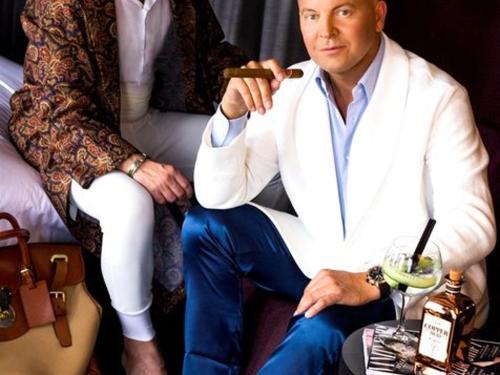 Gallery owners, Jordaan residents and Canal House Ambassadors, Jan Willem Loor and Tertius van Oosthuyzen, give us an inside look at VIP Amsterdam ...
Where do you live? Tell us about your neighbourhood ...
We live in a converted convent in the Jordaan neighbourhood, just 100 meters away from the lively Nine Streets area, full of independent boutiques, galleries and cafes.
What do you do on a Sunday afternoon in Amsterdam?
On Sunday afternoon our Gallery Oostloor opens its doors from 1pm, so we make the most of the morning with a walk along the canals and breakfast at Buffet van Odette on the Prinsengracht. At 5pm, when the gallery closes, we usually catch up with friends over a beer at Bar Moustache on the Utrechtstestraat.
What do you love most about the city and people?
Everything - gorgeous architecture, canals, the varied cultural institutions and the fact that everything is in walking distance! Amsterdam is a museum unto itself. It also has an incredible selection of independent shops, diverse restaurants and enterntainment venues.
Best way to relax?
A boat ride through the canals or a stroll through the Vondelpark.
Favourite cocktail bar?
Canal House, Door 74 and The Butcher.
Favourite restaurant or café?
Le Garage is our favourite restaurant located on the Ruysdaelstraat & Het Aapje which is a traditional "Bruin Café" located on the Zeedijk.
Best places to shop?
PC Hoofstraat if you're looking for international designers such as Chanel, Louis Vuitton and Gucci. The Nine Streets for unique one-of-a-kind boutiques & De Spiegelstraat for beautiful antiques.
Describe your own personal style?
Unique and spontaneous - we do everything with passion.
Top 5 things you recommend to do in Amsterdam?
1. Stedelijk Museum
2. Rijksmuseum
3. A boat ride through the canals
4. Begijnhof
5. Oostloor Art & Objects

Recommend something off the beaten track that tourists don't know about ...
Yab Yum was one of the best-known and most exclusive brothels in Amsterdam. If you've ever wondered what an old school 'gentleman's club' was really like inside, then a visit to this brothel-turned-museum is for you. Also, a visit to Upstairs Pancake House on the Grimburgwal - they only have 4 tables!
Photography: Amanda Griffioen
Hair and makeup: Shiona Franke
Special thanks to: La Perla