In Bed With ... Influencer, Yaela Betsalel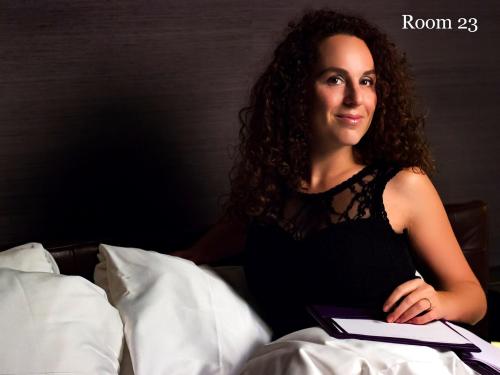 Founder of Typhoon Hospitality, innovator and Canal House Ambassador, Yaela Betsalel, gives us an inside look at her Amsterdam ...
Where do you live? Tell us about your neighbourhood ...
I live in the Rivierenbuurt in the south of Amsterdam. It's like living in a village within the city. Very quaint and friendly but I'm in the city within 5 minutes if I want to be. I love that duality.
What do you do on a Sunday afternoon in Amsterdam?
I walk. Amsterdam, because of its size, is ideal for lazy strolling. Amsterdam is always changing. The next big thing is opening every other week and the list of (food) festivals gets longer by the minute. Walking means you get to discover new neighbourhoods, shops and events every week. It's like permanently being on holiday.
What do you love most about the city and people?
Amsterdam is like a little kid dressing up in their parents' shoes and clothes. Pretending to be a big metropolis but truly being a lovely city full of character and surprises. I love the approachability of the city and its people.
Best way to relax?
In summer, with a paper and/or stack of magazines in the park. In the winter, by one of the lovely fireplaces.
Favourite cocktail bar?
Besides the Bar at Canal House there's a lovely speak-easy behind one of the city's hottest burger bars.
Favourite restaurant or café?
That's a trick question. To me restaurants are what clothes are to most women. I can't pick one favourite. My choice of restaurant depends on my mood, the day or the company. It can vary from a delicious naan at Shirkhan in the Foodhallen to an extravagant night at The Duchess. From lunch at Jansz. or Hoofdstad Brasserie to champagne and seafood at the hors d'oeuvre counter of Grand Café Krasnapolksy.
Best places to shop?
Online
Describe your own personal style?
My style is smart casual and feminine. If I'm not wearing a dress, I'll wear jeans and a t-shirt, but never without a good pair of heels.
Top 5 things you recommend to do in Amsterdam?
1. Walk around the city without a map. Getting lost in a strange city is the best.
2. Visit one of the many galleries and enjoy a long brunch at Bluespoon.
3. Walk around the 9 streets and marvel at the many boutiques and stop for lunch at Jansz.
4. Grab some street food at the Foodhallen.
5. Enjoy a decadent night out at Izakaya, The Duchess, Momo or Mr Porter and end the night with a cocktail in The Tailor.
Recommend something off the beaten track that tourists don't know about ...
This speak-easy cocktail bar I was telling you about. It's members-only and completely hidden but…the Canal House team has a way to get you behind those closed doors.
Photography: Amanda Griffioen